Thursday, January 29th, 2015
Listen Here
Audio clip: Adobe Flash Player (version 9 or above) is required to play this audio clip. Download the latest version here. You also need to have JavaScript enabled in your browser.
Remember the grandfatherly doctor who makes house calls and treated three generations of the same family, nursing them through everything from skinned knees to cancer?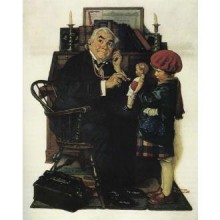 For the most part, that Norman Rockwell ideal is long gone, and replaced with busy group practices that usher through patients in 15-minute increments. But even that model is struggling. There simply aren't enough primary care doctors, period. So when the Affordable Care Act passed in 2010, the government included money to train and inspire a new generation of primary care doctors. Are those efforts working?
For a year, I followed a group  of doctors-in-training in Western Massachusetts as they weighed this major career decision, while trying out the profession first-hand.
This documentary was funded by a fellowship from the Association of Health Care Journalists and the Commonwealth Fund. [Full transcript and photos at NEPR.net]
Listen to Rob Rosenthal's interview with me on HowSound Podcast, hosted by Transom.org, here.
Read my companion story in the Boston Globe here.
—
And to hear a follow-up feature, which looks at some unconventional, activist efforts to reverse the trend away from primary care, click here.