Karen Brown
Karen Brown is a radio and print journalist who focuses on health care, mental health, children's issues, and other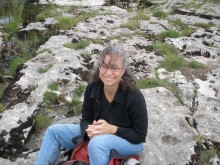 topics about the human condition. She has been a full-time radio reporter since 1998 for WFCR/New England Public Radio, the NPR affiliate in Springfield, Massachusetts. Her pieces have aired nationally on National Public Radio, American RadioWorks, Marketplace Radio and other outlets.
Karen also produces radio documentaries, focusing on mental health, as a way to give more depth and voice to the topics she covers in her daily reporting. Documentary subjects have included Post-Traumatic Stress Disorder, bipolar disorder in children, siblings of the mentally ill, hypochondria, and mental health care for refugees.
She freelances widely for print and online outlets such as The Boston Globe, Harvard Public Health Magazine, NOVA Next, Slate, and the New York Times' Motherlode blog.
For 2012-13, she was a Knight Fellow in Science Journalism at MIT, where she focused on brain science and the effect of early experience on brain development.
For the 2008-2009 year, she was a Kaiser Media Fellow – which allowed her to focus on health reform in Massachusetts – what's working, what's not, and how people on the ground are affected. The program was funded by the Kaiser Family Foundation (no affiliation with Kaiser Permanente.)
In 2009, she authored a series of print reports, interviews, and audio podcasts on adolescent health, in conjunction with the National Institute for Health Care Management and its partners. The series was distributed widely among government agencies and adolescent health care providers and advocates.
In 2014, she is working on a longterm project on the future of primary care in America — as part of a year-long fellowship from the Association of Health Care Journalists.
Additional fellowships include the Ochberg/Dart Fellowship in Trauma Reporting, Rosalynn Carter Fellowship for Mental Health Journalism, and the Association of Health Care Journalists' Fellowship on Health Care Performance.
Her pieces have won a number of national awards, including the National Edward R. Murrow Award, the Daniel Schorr Journalism Prize, New York Festival's Silver Baton, Public Radio News Directors, Inc. (PRNDI) Award, the National Mental Health Association's Media Award, a Gracie Allen Award from the Association of Women in Radio and Televison, Dart Award for Coverage of Trauma (Hon. Mention), and the Association of Health Care Journalists Award (First Place).
In 2011, she won the Erikson Prize for Mental Health Reporting for her body of work on mental illness.
Karen previously worked as a print reporter for The Philadelphia Inquirer, and has freelanced for The Boston Globe, The Washington Post, The San Francisco Examiner, and other publications. She earned a Masters of Journalism from the Graduate School of Journalism at the University of California at Berkeley in 1996.
She lives with her husband Sean, and twin children, Sam and Lucy, in Northampton, Massachusetts.
To follow on Twitter: @kbrownreports