Ushering My Father to a (Mostly) Good Death
[Published in Longreads, November 2017]
"How about Tuesday?"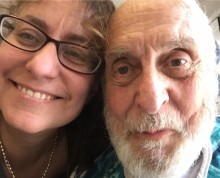 My father is propped up on three pillows in bed, talking logistics with my sister and me. We've just brought him his Ovaltine and insulin.
"Or would Thursday be better? That's a couple days after the kids are done with camp."
"Ok, let's plan on Thursday."
My father is scheduling his death. Sort of. He's deciding when to stop going to dialysis. That starts the bodily clock that will lead to his falling into sleep more and more often, and then into a coma, and eventually nothingness.
He is remarkably sanguine about the prospect, which we've all had a long time to consider. A master of the understatement, he promises it's not a terribly hard decision, to stop treatment and let nature takes its course, "but it is a bit irreversible."
If I'm honest, he's ready now to stop dialysis. It's a brutal routine for someone in his condition, incredibly weak and fragile from living with end-stage pancreatic cancer, kidney disease, and diabetes. It's painful for him to hold his head and neck up, which he has to do to get to the dialysis center. During the procedure, he must be closely watched so his blood pressure doesn't plummet.
But he's always been a generous man. He's willing to sacrifice his own comfort in his dying days for the convenience of his family, since we all want to be present at the end. If he pushes his last day of dialysis to Tuesday, then my sister can still go on the California vacation she'd been planning with her family. If he pushes it to Thursday, I can still take the journalism fellowship I'd accepted. It will also give his grandchildren time to finish up their summer jobs and fly down.
Are we selfish for allowing him to make these choices? Possibly. But he insists, as he always has, that living for his children's and grandchildren's happiness is what gives his existence meaning. We hope that's true. This is a man who spent his career as a professional decision analyst but always picked the worst-colored ties.
As it happens, though, when Thursday comes, he just can't get out of the house. He is practically crying from discomfort as the caretaker lifts him off the bed onto his rollator, to start the journey up the stair lift and into the car. I tell him it's okay. He can get back in bed. He looks so relieved when we rest his head back on the pillows.
I cancel my Amtrak ticket home to western Massachusetts and tell my husband not to expect me for the rest of the month….
(To keep reading, click here)