Scurvy Is A Serious Public Health Problem – Even If You're Not An 18th Century Pirate
[From Slate, November 20, 2015]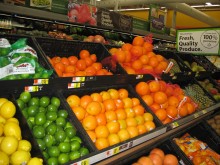 In the winter of 2009, Eric Churchill was called to a patient's bedside at Baystate Medical Center in Springfield, Massachusetts, to help out with a medical mystery.
The middle-aged man had shown up with bleeding gums, unexplained swelling, bruises, and fatigue. His team of internists suspected a skin infection, but every bacterial test came up negative. They were stumped until, Churchill recalls, "someone eventually thought to ask about this person's diet."
It turns out the man, who was mentally ill and lived alone in one of the city's poorest neighborhoods, had eaten nothing but white bread and American cheese … for years. "And this had led to these very severe nutritional deficiencies," Churchill says.
The man's vitamin C levels were so low, he qualified for a disease Churchill hadn't thought about since medical school: scurvy. The same scurvy made famous by pirates and British sailors from the 1700s, who would go for months or years at sea without fresh produce, experiencing symptoms from rashes to hemorrhaging. Back then, scurvy killed more seafarers than storms and shipwrecks combined….
To continue reading on Slate, click here