Monday, November 3rd, 2008
Listen Now (30 minutes):
Audio clip: Adobe Flash Player (version 9 or above) is required to play this audio clip. Download the latest version here. You also need to have JavaScript enabled in your browser.
[Audio problems? Click here.  MP3 download available here (right-click).]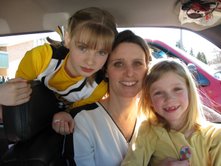 "A Burden to be Well: Sisters and Brothers of the Mentally Ill" is a 30-minute radio documentary that delves into the often unexamined experience of "well" siblings who grow up in a family coping with mental illness. It profiles two sets of siblings in particular: a New Hampshire family dealing with their middle daughter's bipolar diagnosis while trying to raise two other children; and a pair of twin sisters, one with schizophrenia, and the other – a psychiatrist – without. This documentary, which aired in 2006 on WFCR and NPR (in shortened form) won a PRNDI award, among others.
Written and Produced by Karen Brown
Edited by Mary Beth Kirchner, American Radion Works
First aired on WFCR in Amherst, MA on June 8, 2006.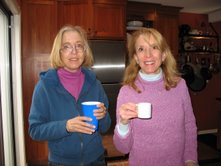 Reporting was made possible by a Rosalynn Carter Fellowship in Mental Health Journalism.
Upper photo: Deb, Audrey, and Rose Stanas
Lower photo: Carolyn and Pamela Spiro
-
-
To go to NPR version of this story, please click here
Audio clip: Adobe Flash Player (version 9 or above) is required to play this audio clip. Download the latest version here. You also need to have JavaScript enabled in your browser.